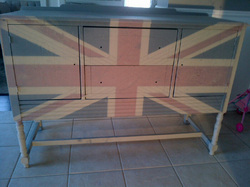 AFTER 2 COATS ASPIRE CLAY/CHALK/MINERAL PAINT (CUSTOM BLEND OF INSPIRE AND SERENITY) I AM READY FOR THE FUN PART OF TAPING THE UNION JACK. USING A PROJECTOR AND A PRINTED PIC I POSITION THE UNION JACK ON MY BUFFET.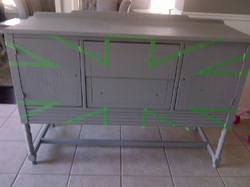 I WILL NOW TAPE THE RED AND WHITE SECTIONS AS A WHOLE AND PAINT MY SECOND LIGHTER GREY IN THE ENTIRE SPACE!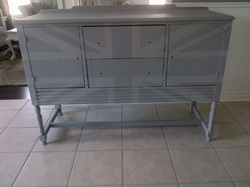 AFTER PAINTING THE ABOVE SECTION I REPLACED THE PROJECTION OVER THE ENTIRE BUFFET. REMOVED ALL TAPING AND ADDED NEW TAPE WHERE THE RED CROSS AND LINES ARE TO BE. MIXED A DARKER GREY AND PAINTED THE RED AREAS. MOVED TAPE RIGHT AWAY AND VOILA! LIGHTLY SANDED THE ENTIRE PIECE AND USED ASPIRE MULTI-SEALER DILUTED TO AN EASY TO USE THIN TOPCOAT. NEED TO FIND THE RIGHT HARDWARE AND WILL POST FINISH PRODUCT SOON!